The Makepeace Family Web site
|
home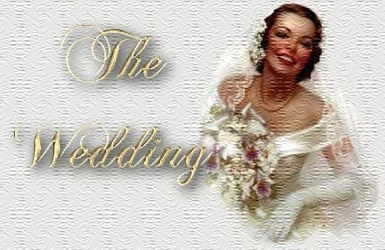 This was the most beautiful and stressful day in my life.
I didn't have time to get nervous (at least I thought I didn't).
It was at least 100 degrees, and we chose to have an outside wedding.
We did not want to be enclosed in a building because
we were going to be stuffy enough in the dress and tux.
The day began pretty normal. I made room in the kitchen for
the food Artie's parents were soon to be bringing.
I didn't know exactly what they were bringing.
I knew before the wedding day, but for the life of me
I could not remember.
My mother (Bernell) volunteered to pick Jonathan up and
bring him with her. She got here and Jonathan had fallen
asleep. We laid him down to nap while we got the rest of
the things together. My uncle (Carlton) came the day before
and made a beautiful arch for us. Artie's parents arrived and
started setting out the food and Artie cousin Chrissy fixed
beautiful wine glasses and brought those along with a table for
the wedding cake (thanks sweetie). My father (Dennis) and
step Mother (Geneva) appears with the wedding cake. From that
moment I was moving in fifty different directions at once
and did not know where any of them led. I don't even remember
who was asking me all the questions. In between the "where do
you want this?" and the "you need to do this"
and helping others get ready I almost forgot myself.
Somebody gracefully dressed Jonathan for us (thank you),
my mother was doing hair, I was doing makeup,
and then I realized it was almost time. It was fifteen 'til four
and the wedding was to begin at four. OH NO!
I frantically ran to put the dress on, my mother in tow
fixing my hair and Jennifer (Artie's sister) helping fix my slip
and pull down that torture devise called a bra. I
was almost frantic by the time it was to start. Jennifer's boyfriend,
Derek, put the CD of wedding music in and started the bride's maids song.
Jessica, Misty, Jennifer, and Jenny were beautiful.
I started to calm down and get ready for my turn. Then, Jenny fell.
My heart jumped into my throat and I though I would die.
I grabbed Derek and said "I'm gonna do that aren't I?"
He laughed and said it would be all right.
I watched as Jonathan and Samantha, Chris and Joelle
walked down the aisle. I took a breath and it was my turn.
I took hold of my father to my right and my step father to my left
and started on my way.
Suddenly, my slip was falling, my shoes were getting caught
and I just knew I was going to fall. My Dad and Rob held me up
until I could get myself together and walk back down the aisle.
By the time I got to Artie I was ready to throw my arms around him,
give him a big kiss and say "we should have eloped!"
At any rate it was a great day and the stressful moments
made it more memorable. Thanks to all who helped
make this day more beautiful. We truly appreciate everything.
Thanks to our parents the most because without them,
there would have been no wedding.